Exploring the different types of green wall systems By
Natura
·
1 minute read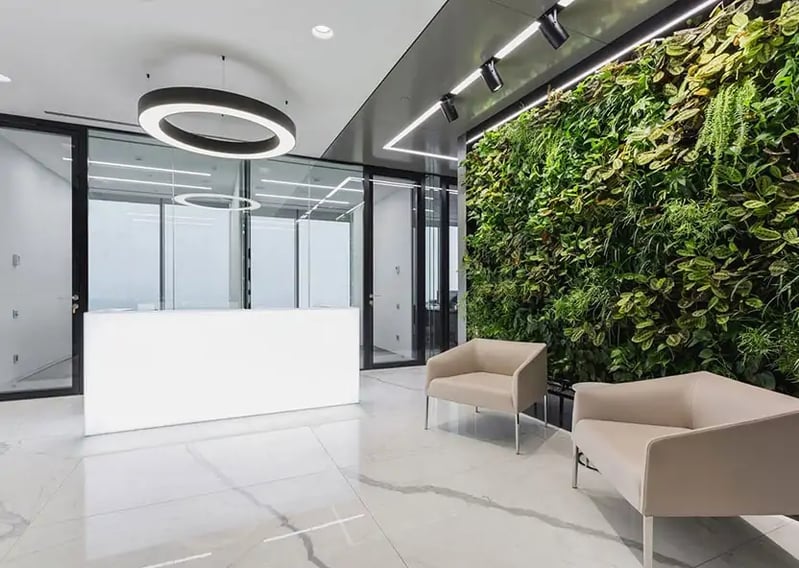 Are you considering adding a green wall to your office but unsure which system is best for you? We've got you covered. Our infographic explores the five types of green wall systems: modular/panel, tray, cassette, free-standing and trellis systems. Each has its own set of features and benefits, and we'll break down the key factors to consider when choosing the right one for your space.
Green walls are more than just a treat for the eyes, they offer a host of benefits that extend beyond their aesthetic appeal. Natura aims to highlight the positive impact that plants can have on mental and physical well-being, making them an invaluable addition to any office space. To assist in your quest for the perfect green wall for your office space, we've designed this helpful infographic.
There are five distinct categories of green wall systems:
Panel/modular
Tray
Freestanding
Cassette
Trellis
Each system has its unique features and functionalities. Familiarizing yourself with these five types will enable you to determine the most appropriate one for your project's requirements.

---
Project Approach
Our approach to the project is outlined below:
Initial Consultation
During the initial consultation, we will review the project criteria, timelines, scope, budget, and other relevant details.
Design Phase
In this phase, we will select an appropriate system that aligns with the budget and design intent. We will determine the plant pallet, design, irrigation method, and supplemental lighting requirements.
Pre-Installation Planning
Our team will create shop drawings, take field measurements, review MEP documents, and study technical specifications. We will also source or contract grow plants that meet project specifications.
Installation
Hardware will be delivered to the site and supporting structures will be configured, including backers, membranes, and irrigation controls. We will test the system for function, leaks, and stability.
Maintenance
We understand that every green wall project requires ongoing plant maintenance, and Natura provides this service for you.
---
The Bottom Line
From the robust panel/modular system that offers exceptional design flexibility, to the quick and easy installation of the freestanding system, there's a green wall solution to fit every need.
Green walls can be a significant financial investment, and the benefits they bring to urban and indoor environments are invaluable.
From design, to installation, Natura is ready to guide you every step of the way. Book a consultation with our team of green-thumbed experts and let's bring your vision to life with a green wall masterpiece.