4 Ways To Ensure Your Green Wall Is a Success By
Natura
·
2 minute read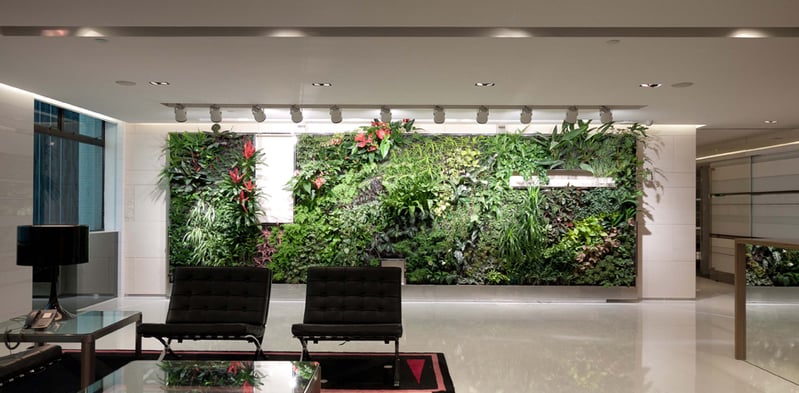 Looking to install a green wall in your workplace? Here are some things to consider, straight from our experts at Natura.
In the world of urban design, green walls have emerged as both a visually striking and ecologically beneficial addition to our built environments. These vertical gardens not only enhance the aesthetics of a space but also contribute to improved air quality, increased productivity, and overall well-being.

However, like any transformative idea, creating a thriving green wall is filled with complexities. From structural considerations to plant selection, the intricacies of green wall installations can be overwhelming. Our experts have compiled a list of what your business should consider when starting your green wall project.
1. Finding the Right Structural Design
Green wall systems come in various forms, each with its own unique features and benefits. Selecting the best green wall system for your space is an important decision. To find the right structural design for your green wall, assess factors such as site conditions, budget, maintenance, plant selection, and aesthetics.

To guide you in this crucial choice, have a look at our blog: Exploring The Different Types of Green Wall Systems.

2. Plant Selections

Selecting the right plants plays a key role in the success of your green wall. They need to thrive in the environment and align with your business's aesthetic.

We collaborate with you to select suitable plants, taking into account factors such as lighting, climate, and your design preferences. This ensures the creation of a thriving and aesthetically pleasing green wall that matches your vision.

3. Irrigation Requirements
Without proper irrigation, your green wall can struggle to survive, and the plants will perish. Poor irrigation can also lead to leaks. (We've seen these before and it's not fun).

Natura's team of experts are ready to design and install an irrigation system that meets the specific water needs of your green wall. This will ensure it remains lush and healthy while conserving water and minimizing maintenance efforts.

4. Seamless Integration with Existing Spaces
Green walls can be powerful branding tools, which is why businesses should aim for a seamless integration with their existing architecture and design.

We always consider the aesthetics, materials, and layout of your space to create a green wall that enhances its overall ambiance and appeal.

If you're seeking inspiration or still unsure about green walls, explore our extensive portfolio to see our work in action. It's the perfect place to find ideas and gain confidence in our expertise.

Remember to always turn to the experts when considering a green wall for your space. With us as your partner, you can rest assured that your green wall not will not only meet your aesthetic goals but also function flawlessly, adding value to your business environment and truly reflecting your vision.

Don't let green wall complexities hold you back. Connect with us today, and together, we'll kick-start your project.