9 inspiring examples of biophilic design By
Natura
·
5 minute read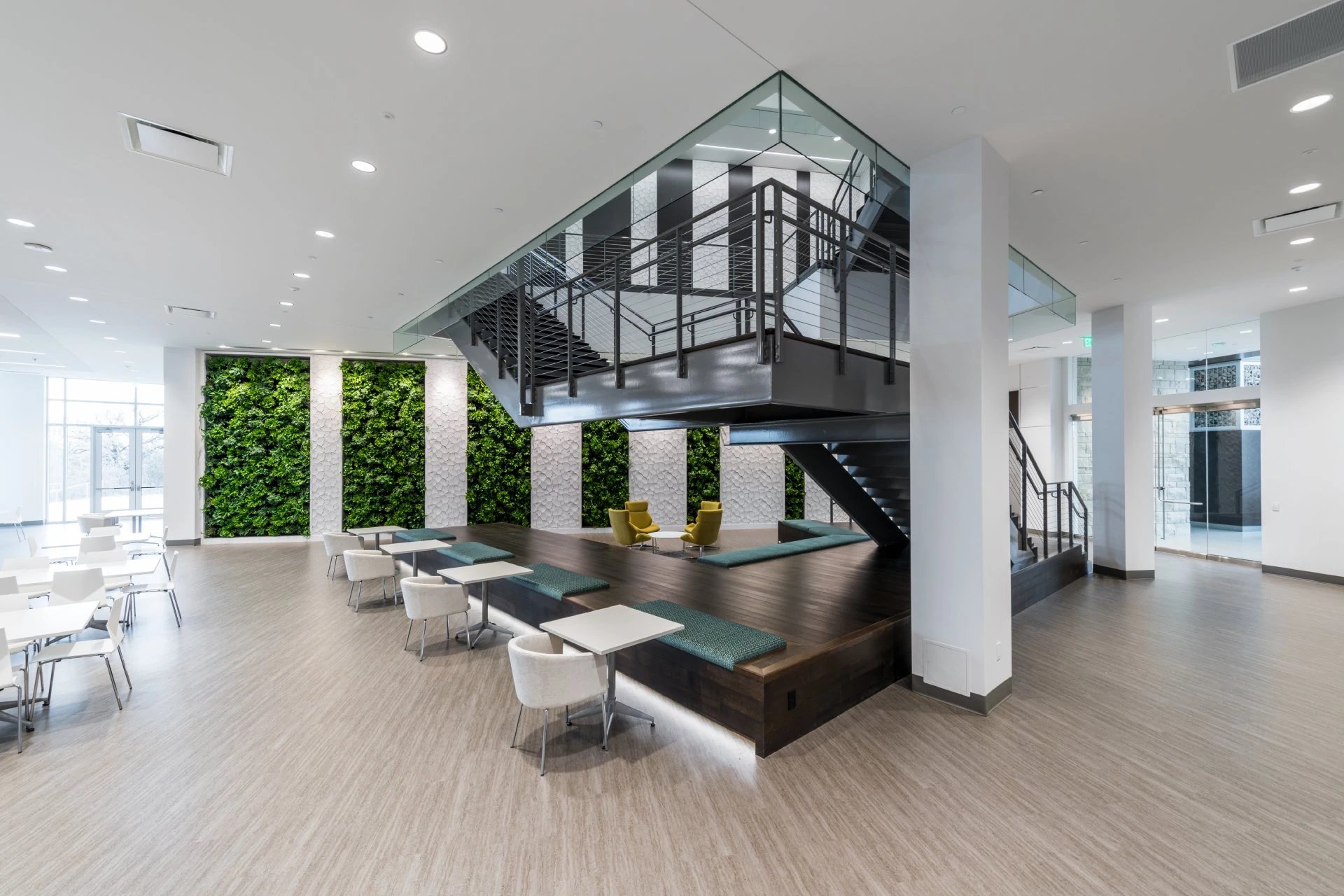 Nature, nurture, and nine out of this world examples of biophilic design executed by Natura. Get ready for a dose of greenery and fresh air as we take you through some of the most impressive office spaces.
You might have heard the saying, 'everything's better with a view', and this is especially true in the workplace. Various studies have shown that bringing elements of nature into the office environment can have a profound impact on employee well-being. In this post, we'll explore biophilic design, its definition, as well as benefits of it in corporate environments. Additionally, we'll highlight some breathtaking examples of companies that have integrated biophilic elements into their office designs.
What is Biophilic Design?
Biophilic design is the practice of integrating elements of nature into the built environment. It aims to connect our intrinsic need to affiliate with nature. We like to think of it as a love letter to nature, written in architectural ink. From living walls to natural light, and wood accents, biophilic design takes inspiration from nature to create spaces that soothe the soul.
So, why does nature make us feel so good? It's simple: our brains are wired to respond to the natural world. Our bodies and minds crave the sights, sounds, and sensations of nature, and this is referred to as biophilia.
Biophilia in the workplace: The leafy revolution
Nature's tranquility and beauty are now inspiring some of the world's most renowned companies, such as Ikea and JLL. They're breaking free from traditional office aesthetics and embracing the richness of the great outdoors. The result is a harmonious mix of technology and nature, creating a haven for employees to thrive in.
The Global Human Spaces report reveals that 33% of office workers consider office design in their decision to work for a company -this highlights the significance of office design for retaining current employees and attracting new talent.
Let's take a brief look at some benefits of biophilic design in the workplace.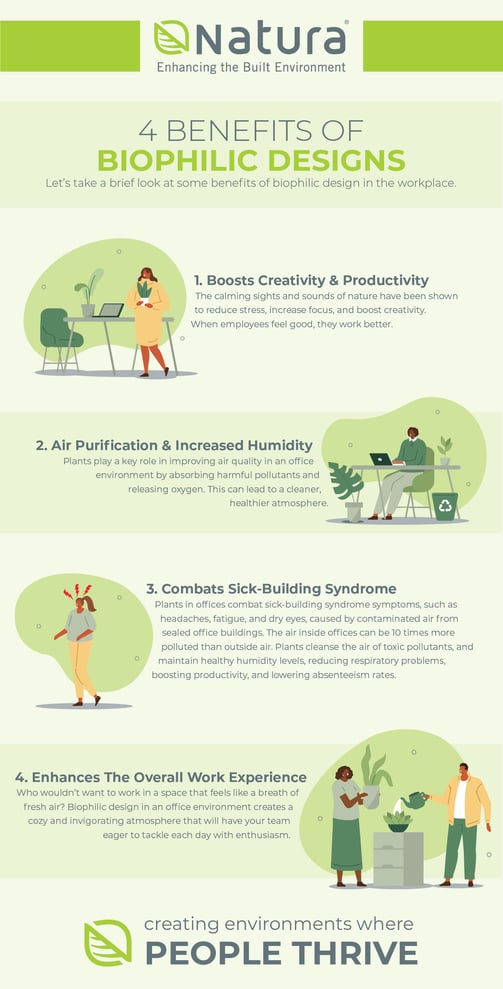 For a more comprehensive overview of the benefits of biophilic design in corporate environments, read our blog: Plants and Corporate well-being: the perfect pairing.
---
Now that you're all caught up about the benefits of biophilia in the workplace, it's time to witness the design in action. Have a look at these truly awe-inspiring, real-life examples of biophilic architecture.
1. Ikea
, North American Headquarters
In a quest to rekindle the spirit of work, Ikea set its sights on Natura. They sought to infuse its North American headquarters with a touch of nature, making the return-to-work experience an enchanting one. The central 3-story atrium lobby, (a hub of activity and the heart of the building), was the perfect spot to introduce a striking biophilic element.
After much consideration and consultation, a towering 46-foot preserved moss wall, spanning 8 feet in width, emerged as the most captivating solution. Our design team meticulously deliberated over the selection of mixed pole moss, fern moss, and dark sheet moss to achieve an elegant natural pattern. With the completion of this noteworthy project, employees could bask in the refreshing presence of nature, feeling rejuvenated, and ready to take on the day.
Image Source: Natura Portfolio Page
2. Pearl Cowork, San Antonio
Pearl Cowork is a dynamic and adaptable workspace nestled in the heart of the Pearl district in San Antonio. As you arrive, you'll be met with a breathtaking sight—a one-of-a-kind 12-foot moss wall, crafted from recycled Pearl Brewery beer crates, serving as a testament to the rich history and tradition of the area.
In this space, creativity and innovation are not only encouraged but celebrated. Drawing inspiration from Pearl's reputation as a hub for visionary thinkers, Pearl Cowork provides an environment where enterprising individuals can thrive. It's a place where people come together to collaborate and bring their brightest ideas to life
Image Source: Natura Portfolio Page
3. Brookfield Properties,
PWC Tower, Park District, Dallas
Step into the lobby of this Dallas office space and be greeted by a stunning living wall, brimming with life. A total of 110 live plants flourish in this vertical garden, their vibrant energy palpable as they welcome visitors with open leaves and stems.
Brookfield Properties, a renowned leader in the world of commercial spaces and services, takes pride in crafting places that are more than just a building. Their mission to create spaces where people can truly live, work, discover, and connect is evident in every aspect of this green oasis.
Image Source: Natura Portfolio Page
4. JLL, Crabtree Terrace, North Carolina Headquarters
JLL, a titan in the world of real estate services, takes a people-centric approach to build workspaces that genuinely work. According to a recent JLL research report, integrating greenery into office spaces can promote a sense of serenity amidst the hustle and bustle of a busy environment. In the Raleigh office, you'll witness this philosophy in action with a majestic 132 sq ft moss wall adorning the café, covered in green reindeer lichen.
This particular installation was a notable accomplishment of design engineering, requiring pinpoint accuracy, to ensure a flawless fit of each panel, smoothly arranged in a stair-step hexagon tile pattern. The results are magnificent and bring about an ambiance of pure tranquility and beauty.
Image Source: Natura Portfolio Page
5. Edison Chastain,
Georgia
The Edison Chastain is more than just an office building—it's a haven for those who seek to balance work and life in perfect harmony. The building promises tenants not only a striking work environment but also an array of nearby amenities that offer ample opportunities to connect and recharge. The spacious 14ft+ ceilings, soaring high above your head will instantly mesmerize you, creating a sense of boundless possibility and inspiration. The windows flood the interior with natural light, infusing every corner with a sense of vitality and warmth.
Image Source: Natura Portfolio Page
6. TaskUs, United States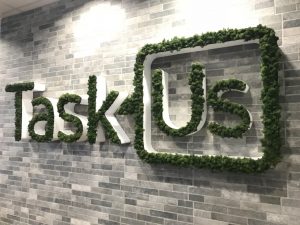 TaskUs boasts incredible office spaces that are state-of-the-art, seamlessly blending biophilic design, with a focus on connecting their work environments with the natural world. TaskUs approached Natura to craft a unique, branded moss wall logo that embodies the tremendous value they place on bringing nature into their office spaces.
Image Source: Natura Portfolio Page
7. Walsh,
Fort Worth, Texas
At Walsh, you'll find the perfect fusion of technology and nature, that offers residents a lifestyle like no other. With its unique blend of urban and natural living, Walsh offers an unparalleled opportunity to enjoy the very best that life has to offer.
Image Source: Natura Portfolio Page
8. Worley Data Refinery, Houston
Step into the captivating world of the Data Refinery, where innovation reigns supreme. Here, cutting-edge data science is the key to helping industrial clients revolutionize their businesses with the sheer force of data-driven decisions.
But it's not all just science and technology at the Data Refinery. The lab's atmosphere is also designed to foster creativity and collaboration, with three eye-catching moss wall art designs in the space. These natural elements work together to create an inviting and engaging workspace. Thanks to the beauty of nature, the Data Refinery is transformed into a space that is both functional and visually captivating.
Image Source: Natura Portfolio Page
9. Restoration Hardware (RH),
Austin
RH Austin is where nature meets luxury in a remarkable visual display.
The modern floor is sleek and elegant with 17-foot fiddle figs placed in chic containers, providing a clean look that complements the space perfectly. Throughout the showroom, you'll find an array of other beautiful plants, including elegant white orchids, and plump succulents, filling massive stone bowls and adding a touch of natural beauty to every corner of the space.
Each plant was chosen carefully and strategically placed to complement the integrity of the brand and impress even the most sophisticated clientele.
Image Source: Natura Portfolio Page
---
The examples we've explored in this infographic demonstrate how biophilic design has become a driving force in corporate companies. From integrating greenery into office spaces to showcasing natural materials and textures, businesses are embracing nature and its many benefits to create inspiring and productive work environments. These innovative designs not only improve the physical and mental well-being of employees but also serve as a reminder of the crucial role nature plays in our lives.
Additional work
Our team of talented designers and architects are passionate about creating spaces that not only look beautiful but also promote employee health, morale, and well-being. Here's a glimpse at some of our other past projects showcasing how we have incorporated biophilic designs in the built environment.
Explore our portfolio for more biophilic design inspiration.
So, are you ready to add a bit of nature to your office space? Connect with us and leverage the powerful benefits of biophilic design to improve how people feel, engage and flourish in your space.