Modern Christmas decorations for your office. By
Natura
·
2 minute read
Explore our 5 modern Christmas decor ideas to tastefully decorate your workplace this holiday season.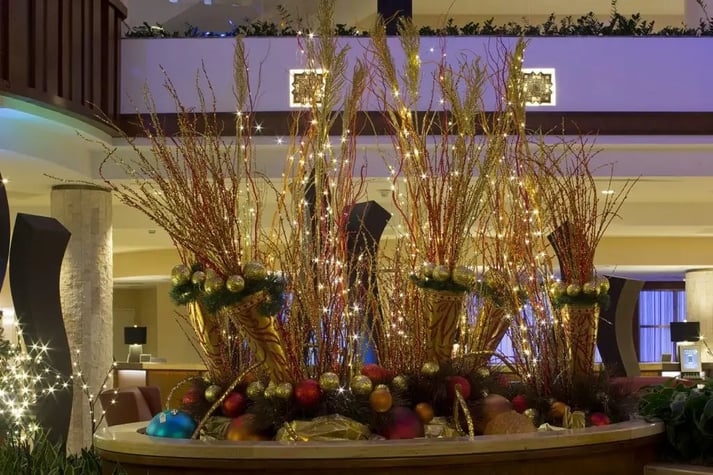 This year, let's give your workplace a contemporary edge by embracing unconventional colors, intriguing textures, and creative patterns that our designers have curated to sprinkle some holiday magic. Get ready to jazz up your surroundings with these five Christmas Tree Alternative ideas.
1. Natural Hues and Earthy Tones
A far cry from the bright red and green of a traditional Christmas, a more modern look and feel focuses on muted and earthy tones. The woodland aesthetic continues to dominate as one of the most popular Modern Christmas trends in 2023, aligning with the popular Cottagecore movement. As Architechtural Digest describes, "Aesthetically, it's a nod to the traditional English countryside style, romantic and nostalgic." Alongside the classic earthy brown and green color schemes, anticipate the emergence of cozy, rich shades like rust, terracotta, and copper in festive designs.
Take a look at our Enchanted Forest theme, where botanical elements such as eucalyptus leaves, echeverias, pine cones, berries, and birch sticks nestle amidst snow-dusted branches. It's a prime illustration of the prevailing trend towards earthy tones.
2.

Burgundy Makes a Comeback
Burgundy is on the rise again. While previous trends have showcased brighter, more vibrant reds; the rich, wine-inspired hue of burgundy is making a nostalgic comeback, reminding us of the popularity of ox blood red in 2012
Our Heavenly Bordeaux theme perfectly embodies this aesthetic. While still distinctly festive with a focus on green and red, it is more elegant, and adds textures such as platinum beaded poinsettias and plush velvet ribbon. .
3. Festive Brights
Pinterest and Instagram are dominated with a distinctly different Christmas look and feel: this friendly and bright take on the festive season, using jewel-like colors, lavender trees and more. We anticipate this trend being heavily influenced by Barbiecore. As Time explains, "The fashion trend, which has been spotted on celebrities like Lizzo and Florence Pugh, as well as on runways like Valentino, who unveiled a collection of just hot pink designs last spring, has been dubbed 'Barbiecore,' in an homage to the stylish doll, whose brand identity is undeniably feminine and very, very pink."
Though not quite hot pink, our Northern Seasons theme incorporates bright colors. This clean and contemporary aesthetic is a surefire way to kick-start the festivities.
Quick Tip: When selecting a colorful theme for your holiday decor, have a look at the colors that are already in your space. You could use any of them as a starting point for your tree's look.
4. Icy Blues
Despite the fact that Frozen was released ten years ago, it still influences decor and especially festive aesthetics today - though undoubtably this winter wonderland-inspired palette is more timeless than that.
We particularly love the bold combination of blues and platinum blend to create a twilight experience in our Midnight Jewels theme.
We combine bright and winter themes in our Winter Seasons theme with a combination of turquoise, silvers, lime green and cobalt blue to bring a crisp, cool modern feel.
5. Alternative Christmas Tree
If you're in search of a unique touch, you'll find a wide selection of alternative Christmas trees to choose from. Our branch displays bring a modern twist to your holiday decor, offering a delightful way to infuse festive spirit into your space. These attractive elements consist of glittered sticks, greenery, and ornaments, available in either 3' or 5' heights and coordinating colors to complement your other holiday decorations.
We found some of the Christmas tree alternative ideas featured on House Beautiful's blog quite inspiring.
As the most wonderful time of the year draws near, we hope you've found some inspiration in our Christmas Tree Alternative themes. Remember, each of our design themes can be fully customized to align with your business's unique needs.
With our turnkey holiday packages, we can take care of everything, from design and installation to takedown.
Ready to transform your workplace into a modern holiday wonderland? Reach out to us today to discuss your customized Christmas decor needs.